*articles contain affiliate links*
Ladies, we all know the struggle. We want to look amazing for our job as a nurse, but makeup either takes way too long to put on or it doesn't last the entire shift, and that nurse hairstyle never seems to stay put, so why bother? Makeup is supposed to enhance your natural beauty. Wearing it can really boost your self-confidence. These makeup tips for nurses will save you time and help you feel as amazing as you already are.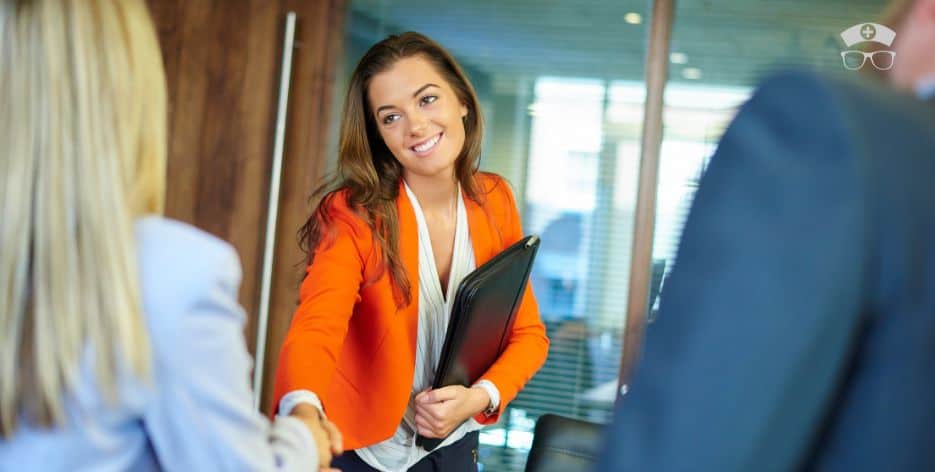 15 Time-Saving Makeup Tips For Nurses
Have you ever watched a makeup tutorial on YouTube? They are already speeding things up in the video editing and the entire thing is still 15 minutes long. Who has time for all that?
Nope. We need fast makeup tips that will help us look our best before we rush out the door.
These are the best makeup tips for nurses! You'll learn how to cover the bags under your eyes and put on makeup in just minutes. There are photos and videos in this list that will show you how easy it is to look put-together and confident.
1. Hydrate Your Skin
Makeup looks the best on healthy skin. Dry skin will cake the makeup and cause even more skin issues. So before you even start applying any makeup, make sure you apply plenty of moisturizer. Use something that is lightweight and has vitamins that your face needs like vitamin E.
2. Use Peach-Colored Concealer Under  Your Eyes
This hack really does work! It will brighten your eyes and make your entire face more radiant and make you look less tired. After a few 12-hour shifts, this is a nurse's best friend.
When you use peach-colored conceal, the orange tones will cancel out the dark bags under your eyes. Be careful to just pat the concealer with your ring finger so you don't pull at this tender skin.
3. Contour Your Cheekbones
You don't have to do all the fancy contouring, just focus on your cheeks! You just need a few different colors. When you do this you will look less puffy and feel like you have a really put-together face even though this entire process takes you only 5 minutes.
To do a 5-minute cheek contour, just use a darker brown shade on the upper cheeks, right at the bone line. Blend it in. Then, use a lighter shade above the bone line, on top.
For a little pizazz, you can rub in a little shimmery illuminator last.
That's it!
4. Use Primer Before Eyeshadow
If you want your eyeshadow to last the entire shift, apply either primer or concealer to your eyelid first. This step literally takes 30 seconds but it makes a huge difference.
This video shows you how to apply eyeshadow and it has some wonderful tips and hacks in it too.
5. Touch Up Your Eyebrows
Patients and other nurses will notice your eyes the most. They carry your emotions and help convey tone. So don't forget your eyebrows when you do your makeup.
If you have light or sparse eyebrows, fill in any gaps with a matching pencil. Use a disposable mascara wand to brush the hairs.
If you have thicker eyebrows, just use the mascara brush to form the hairs so they all go the same way and look groomed.
6. Use a Long-Lasting Mascara
One of the pieces of makeup that every nurse should have in their bags is a non-clumping mascara. Just making your eyelashes darker and thicker will help bring attention to your beautiful eyes. It will help you look more alert and refreshed too.
Pick a mascara that won't smudge or irritate your eyes.
7. Use an Eyeshadow Brush to put on lipstick
If you want a really light and diffused appearance on your lips (and want to avoid having overpowering lips), use an eye shadow brush to buff the color. Just use the brush on your tube of lipstick, then spread the color on your lips. You won't need to blot and it leaves a really beautiful and even appearance.
8. Exfoliate and Moisturize Your Lips
This next tip is also to help your lips look amazing. Exfoliate and moisturize them before adding any lipstick. Do this by adding chapstick first then use a toothbrush (the one you bought just for this purpose) and gently rub it on your lips.
This will help give you soft lips without any dead skin, which helps your lipstick apply more evenly and last longer.
This video is full of more lipstick hacks like this one. Follow these tips and you'll have amazing lips that last through all 12 hours of your shift.
9. Powder The Sides of Your Nose
So many of us glow on the sides of our nose. Did you know this unwanted shine can actually capture light and make your face look puffier?
Yikes!
To combat this, put powder on the sides of your nose to prevent this shine. Blot the space between your tear duct and cheeks with powder.
10. Use Different Brushes for Each Step
You will save a ton of time if you use a different brush for your foundation and another for your eyeshadow and so on. Don't waste time cleaning the same brush. Plus you won't experience the frustration of trying to use a brush that either too big or too small on different parts of your face.
11. Use a Skin-Matching Foundation
The next tip will save you lots of time as you are applying your makeup.
Take Charge of Your Nursing Career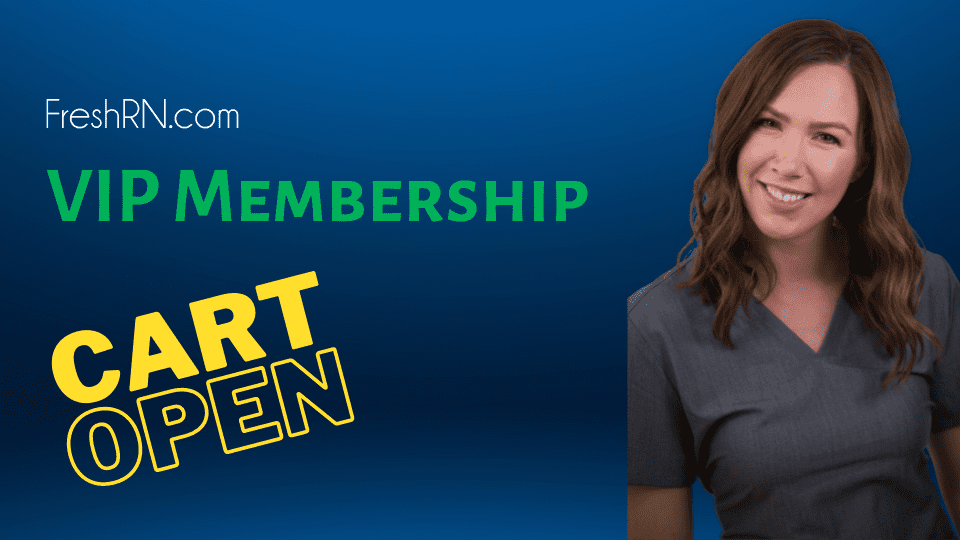 Your first year as a nurse is daunting. You need someone in your corner telling you what your managers really need from you, helping you learn to interact with your preceptor, and really just manage your life. Find all that an more with the FreshRN VIP – Membership.
Don't worry about contouring and using a bunch of different shades all over your face. Just find one foundation that matches your skin and apply it all over.
12. Apply Foundation With A Sponge
After you find a foundation that matches your skin tone, buy a makeup sponge. A sponge will give you better coverage and help it blend better. Plus, it soaks up some of the moisture from the foundation and helps put that moisture back into your skin.
13. Add Blush
If you want to skip the cheek-contouring from step 3, you can always just find a blush and add a touch of pink to your cheeks. Only takes a minute or two and you are ready.
The easiest way to add blush is to choose a shade that is close to your natural tone. Then, start at the back, almost near your hairline, and lightly brush toward your nose.
Or you can just add a few dabs of blush right on the top of your cheeks. Just make sure to blend it in.
14. Tightline Your Eyes
Your eyelashes will look amazingly thicker and your eyeliner will be totally straight if you use this technique.
What is tight-lining? It's where you lightly add eyeliner on your top lid under your eyelashes, on the inside of your eyelid. Tightlining helps your eyes look brighter and makes your eyelashes appear fuller.
This video shows you how to tight-line and explains why it works.
15. Wash Your Face
You know this last tip, but it's so important that a list of makeup tips would be incomplete without it! Wash your face completely. Do every step – cleanse, moisturize, and tone. If you have healthy skin you might even be able to skip the foundation and blush!
Makeup Tips for Nurses, Nightshift
As a bonus, here is a video from a night nurse showing her entire makeup routine. She shares some really great tips. Take what you want from her video and use them to help enhance your makeup routine.
Nurse Makeup That Lasts
What are your best features? Is it your eyes? Your smile? Use makeup to enhance your natural beauty. Putting on makeup doesn't have to take very long. It should always be something you can do every shift and that will give you a boost of confidence. Which of these makeup tips for nurses do you find most helpful?
More Beauty Tips and Ideas
Here are some more fashion and beauty tips for nurses you'll enjoy reading next.
Download Nurse Bingo Today!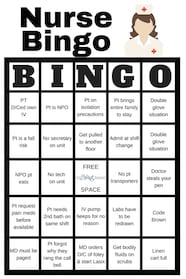 Liven up any shift with a fun game of bingo. See who can fill a row first!
Fill a whole card and lose grip with reality.
Your privacy is protected. We will never spam you.