When choosing a shoe sanitizer method, there is no "one size fits all" option for every food processing facility. There are a variety of considerations to consider when finding the perfect fit (no pun intended) for your footwear hygiene needs. Learn the difference between shoe sanitation methods that Meritech offers below:
The Pitfalls of Popular Shoe

Sanitization

Methods
Before we go into the specifics of the Meritech footwear hygiene systems, it's important to note how automated footwear hygiene is superior to the other products on the market. When it comes to manual methods such as manual boot scrubbers and manual boot dips, although they are low cost and familiar, their drawbacks are hard to ignore. For one, these methods are entirely dependent on human behavior which can vary from person to person. They also require someone to manually mix the proper chemical concentration which leaves even more room for error.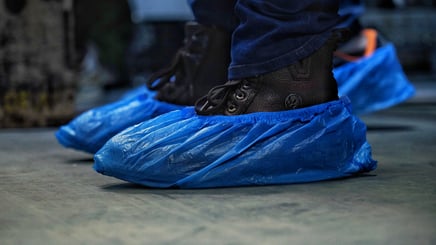 Other methods such as doorway foam units/door foamers can create a slick surface which can become a safety hazard. Likewise, dry quat pellets/dry quat crystals can easily be tracked around the facility which requires substantial cleanup headaches. Another popular footwear hygiene option is the use of disposable shoe covers or booties. These do not have any chemical to kill pathogens on footwear, pose a slip hazard to the wearer and can be quite costly to replenish while producing a significant amount of landfill waste.
Download our footwear hygiene comparison guide
Automated Boot Scrubbers for Shoe Sanitation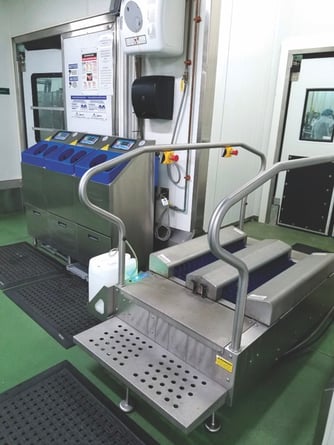 The function of an automated boot scrubber is primarily for the purpose of footwear hygiene in wet environments. These independent systems (meaning that they are not attached to another type of station) utilize a photo eye sensor that automatically starts the rotation of the brushes and dispenses our footwear hygiene solution. As the person walks through the system, they'll have their footwear sanitized by the time they step off and can safely enter production zones.
The main purpose of these automated boot scrubbers is the removal of heavy soils and debris. The powerful brushes of these boot scrubbers can easily remove any excess dirt on footwear that could have the potential to track dangerous pathogens into production areas. We offer two boot scrubber lines for total footwear hygiene in any sized production area:
MBW Compact Boot Scrubbers for Shoe Sanitation

XBW High-Throughput Boot Scrubbers for Shoe Sanitation

We know that there is often limited space in hygiene zones and that's why our MBW systems were specifically designed to be compact. There are also options to accommodate a variety of footwear types so that most facilities can easily integrate the MBW systems into their proper hygiene protocols.

 

Another reason that facilities choose automated boot scrubbers is for high throughput. Our XBW 3.0 system for example can scrub footwear of 15 – 20 employees per minute in as little as three seconds!

 
The Benefits of Meritech Compact and High-Throughput Boot Scrubber Options
Each of our automated boot scrubbers are produced 100% at our headquarters in Golden, CO. Once an order is placed, we make sure that all equipment gets manufactured and shipped ASAP so that your footwear hygiene needs are met quickly.
Our customer support team is also based in the USA so if there are any issues that arise we are only a phone call or email away. We also offer on-site support if necessary, for training on use and cleaning as well as repair support should something not be working to your expectations. Customers that order systems with CleanTech® Plus also enjoy a comprehensive hygiene program that includes solution, service and parts with flexible payment options and no up-front cost.
Shoe Sanitation Enhancements for CleanTech® Automated Handwashing Stations
Our Shoe Sanitizer Pans were designed to work seamlessly with our CleanTech® Automated Handwashing Stations for simultaneous hand and footwear pathogen removal. Each of our shoe sanitation enhancement options guarantees 12 seconds of contact time with footwear each time someone is washing their hands in the CleanTech® system.
| | |
| --- | --- |
| Shoe sanitation for wet environments | Shoe sanitizer for dry environments |
| Our Wetted Boot Dip system is ideal for wet environments, works with any type of footwear, and automatically refills and maintains regulatory recommended PPM of solution per regulatory recommendations. | Our Sole Clean Low Moisture enhancement is ideal for dry environments and works with any type of footwear and uses a sanitizer that evaporates quickly post-application to keep your production area dry. |
Overall if soil and debris removal does not apply to your facility, a CleanTech® footwear enhancement would most likely work best. We even offer a Controlled Access Turnstile that works with our CleanTech® 2000S system which only allows users through once they've fully washed their hands and maintained 12 seconds of contact time.
Learn more about our CleanTech® Enhancements