Over the past few years, the world of hygiene has evolved. There is greater awareness today of how people wash their hands and how it can affect others. This, however, comes at a price. A common misconception among the general population is that time is the most important factor when it comes to washing hands. The reality is that it matters exponentially what a person is doing during that time and if they're following proper manual hand washing procedures. No matter how well-informed people are, there will always be human error. We took what we know about human behavior and hand hygiene from working in the industry for over 35 years and developed the most advanced hand hygiene technology that eliminates human error and delivers the most effective hand wash possible. That technology is called CleanTech® EVO.
How CleanTech® EVO is the Next Evolution of Hand Hygiene
Several decades have been spent testing CleanTech® handwashing technology in the field. It has revolutionized hygiene zones in the food industry and has impressed cruise ship passengers across the globe. We've always stated that when used properly, CleanTech® provides "the perfect hand wash" experience. So why make changes to a product that has done so well?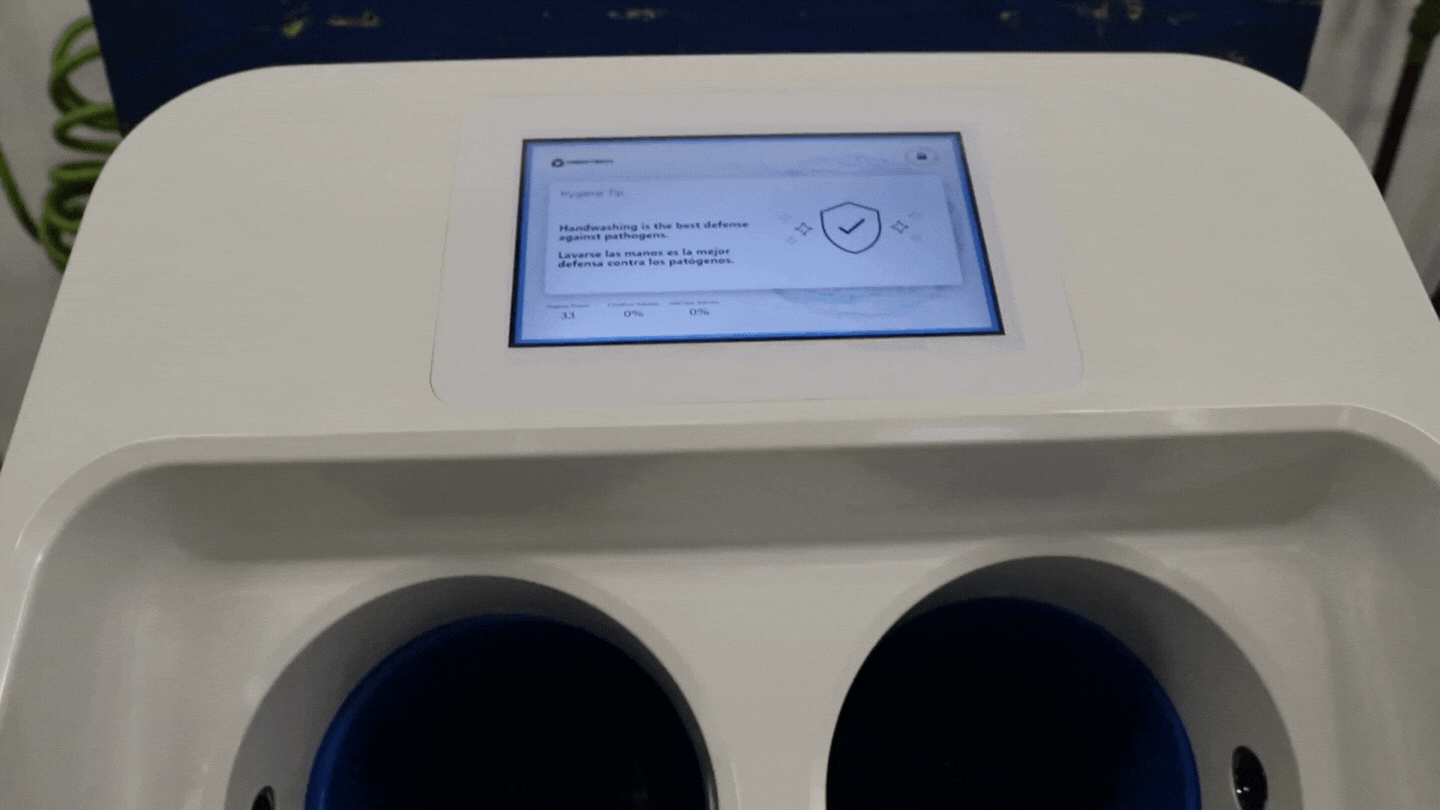 To begin with, CleanTech® EVO has not changed its hand washing technology. Each 12 second touch-free hand wash is fully automated and removes 99.9% of harmful pathogens from both hands every time. What has changed is how users interact with the CleanTech® EVO systems.
Learn how CleanTech® removes more than 99.9% of pathogens
Full Color Touchscreen Display
Why is there a touchscreen on the CleanTech® EVO display if the hand wash is supposed to be touch-free? The CleanTech® EVO display is not meant to be touched frequently. In fact, it should only be utilized by managers to track compliance data and access training video materials. The screen itself will always be displaying hand washing tips to help new users on how to start using the systems as well as a countdown timer so that users will know when it's time to remove their hands from the system. This will help organizations to have better hygiene compliance and make onboarding new team members a breeze.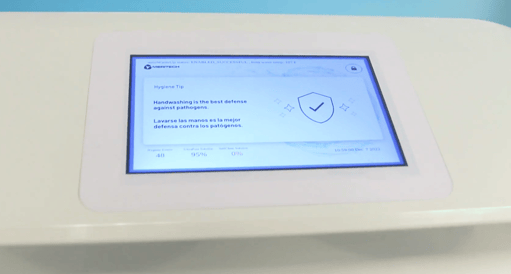 Durable Design
Despite being used in tough industrial environments, CleanTech® EVO was made to look good in any public facing or back of house environments. We used PC-ABS plastic and stainless steel, which are highly durable, but we also paid extra attention to the aesthetics of the system so that it can blend in with any environment. There are four types of EVO systems that are available for all industries. The CleanTech® EVO One is wall mounted and can easily replace wall sinks. The CleanTech® EVO One is free standing and can be placed wherever hygiene needs require. The CleanTech® EVO Three is a triple station unit that can accommodate large traffic areas. Lastly, the CleanTech® EVO In-Counter easily fits into any countertop fixture.
Take our product selection quiz to find out which system is right for you
Sustainable Design
Environmental impact was one of the main factors we focused on when developing CleanTech® EVO. Just like with our classic systems, 100% of the water and hygiene solution used during each was cycle is used for the hand wash which means less water waste. We expanded our commitment to sustainability even further with recyclable solution cartridges that can be returned to Meritech to be refilled and reused which drastically reduces landfill waste and can help our partners with their "green" initiatives.
Learn more about how CleanTech® EVO saves water
Innovation has always been the key to providing the best hygiene experience for our customers and their employees. One of our customers, The Jel Sert Company said it best, "[CleanTech® Automated Handwashing Stations] have become the cornerstone of our Good Manufacturing Practices. Quick, easy to use, and effective!" CleanTech® EVO showcases a commitment to health and safety by further evolving hand hygiene to provide the most advanced and effective experience for every user.
See what our customers have to say about partnering with Meritech