Hand hygiene compliance is a challenge for most people working in hygienic environments. Whether those challenges come from onboarding, continual training, or keeping employees engaged and committed to hygiene, creating a positive hygiene culture is often a laborious process. That's why we've created CleanTech® EVO Automated Handwashing Stations. Our full-color display makes onboarding and training a breeze so that managers can focus on other areas of hygiene that need to be addressed in their facilities.
Training Employees on Hand Hygiene Compliance
Training new staff and temporary employees is usually a tedious process for all parties involved. Onboarding and training presentations can easily become a blur as soon as staff goes back to their workstations. This is especially pertinent when it comes to hand hygiene training since most people already assume that they know how to wash their hands properly.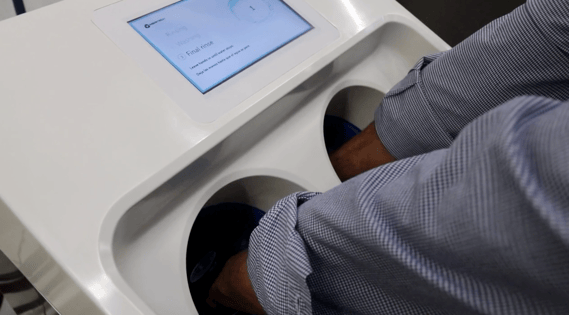 Automated hygiene eases these types of training headaches by simplifying the process of hand washing. With CleanTech® EVO Automated Handwashing Stations, all the proper manual steps that need to be frequently reviewed with employees turn into just three simple steps:
Place your hands in the system palms down and fingers spread
Wait 12 seconds for the wash cycle to complete
Remove hands and dry with a paper towel
As an additional benefit, our CleanTech® EVO systems feature a full-color touchscreen display that constantly shows instructions on how to operate the system. While the hand wash cycle is underway, the screens also feature a large countdown timer so that each user is aware of how long to keep their hands in the system.
Find additional hygiene training resources in our Food Safety Toolbox
Building a Food Safety Culture with CleanTech® EVO
While it's not necessary to have implemented automated hygiene to have a positive food safety culture, investing in the latest hygiene technology sends a message to your employees that you care deeply about their health and safety as well as the quality and safety of your products. If a company is still using old and battered down sinks and soap dispensers for example, that sends a subliminal message across a facility that that company is not as invested in their food safety culture as they should be.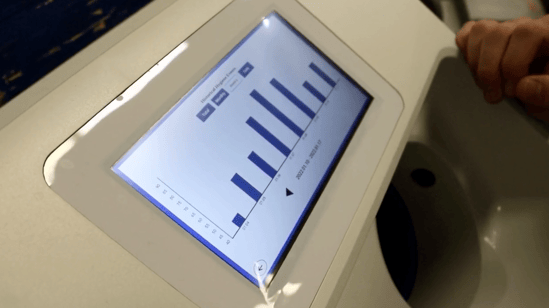 With CleanTech® EVO Automated Handwashing Stations, food safety managers can track hand washing data right on the touchscreen display. This will help them determine which facility areas or shifts might need extra attention when it comes food safety. This is a major step up from guessing which areas need improvement when using manual hand hygiene.
By adopting automated hygiene equipment, facilities demonstrate their commitment to enhancing hygiene and food safety culture at their facilities. One of our customers, HelloFresh put it best: "Compliance-wise, Meritech has helped out tremendously. For example, if you're in a GFSI audit scheme, one of the things they want to look for is your management commitment. Seeing the investment [in CleanTech®] right when you walk in, is huge."
Learn more about how to improve food safety culture with automated hygiene
Standardizing Hand Hygiene Compliance Across Multiple Facilities
The goal of standardization is consistency. By establishing uniform hygiene processes across hygiene zones and facility locations you're creating the basis for a culture of food safety in your organization. Therefore, it is crucial that all processes implemented are simple and easy to understand by all employees. From one facility to another, consistency can be developed using a simple automated process.
In addition to being easily integrated, our CleanTech® EVO systems can be used to standardize multiple facilities under a single organization. For example, our CleanTech® EVO Wall system can replace wall mounted sinks in hygiene zones while our CleanTech® EVO Three system can replace wash fountains in another hygiene zone. Our hygiene experts have planned and implemented CleanTech® at facilities across the globe and can determine where and which systems would operate best.
Learn how to build consistency across your facilities with SAVE