When you examine a manual hand wash closely, you'll find that it is far from optimal in terms of food safety as well as sustainability. Manual hand wash sinks were not originally designed to be eco-friendly. Even most hand sanitizers are designed to be easily disposable. In developing CleanTech® EVO Automated Handwashing Stations, we aimed to not only create the perfect hand wash, but to also support our customers' eco-conscious initiatives.
Download our Hand Hygiene eBook to see the pros and cons of each hand washing method
More Hand Washes with Less Water
CleanTech® EVO uses our own unique hygiene solution called UPX. UPX is the next evolution of our UltraPure hand hygiene solution that was made specifically for CleanTech® EVO. In comparison to our Classic CleanTech® systems, the UPX formula is more concentrated and provides more hand washes in a smaller, more eco-friendly cartridge than the original UltraPure formula.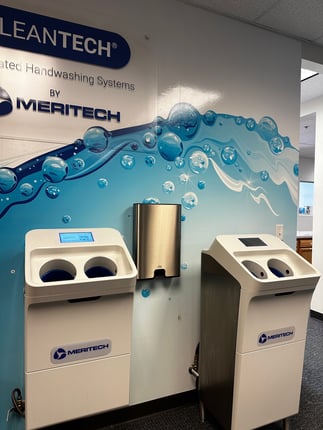 Every CleanTech® automated hand wash cycle uses 100% of the hygiene solution and water for the hand wash. Compare that to a manual hand wash which usually wastes a considerable amount of water while users are lathering or drying their hands. We set out to make our systems as efficient as possible when it comes to water savings without sacrificing efficacy. As a result of the switch to CleanTech®, Kern Meat Company even cut their water usage in half.
"The [CleanTech®] handwashing stations also provided some energy savings. At the former plant, which was five times smaller than the new one, the company consumed about 400 gallons of water per day for employee handwashing; the new stations cut that in half." – Kern Meat Company 
See more of what our customers have to say about CleanTech®
A Sustainable Solution for Food Safety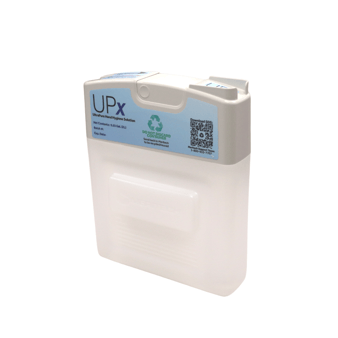 Water savings was not the only way we wanted to contribute to sustainability initiatives. We recognized that many companies are trying to reduce their landfill waste as well. With CleanTech® EVO's new solution cartridges, our customers can send their empty UPX containers back to Meritech to be reused and recycled. This drastically cuts down on unnecessary waste and helps our customers with their sustainability initiatives. CleanTech® EVO is without a doubt the most advanced hygiene technology that tackles food safety sustainability. With CleanTech® EVO, hand hygiene has never been better, as it revolutionizes hand washing and reduces unnecessary waste to an entirely new level.
Learn more about CleanTech® EVO and how it's revolutionizing hand hygiene