*articles contain affiliate links*
Travel nursing is like a dream for many healthcare professionals. They can travel to different parts of the country, helping people in need and still earning good money. However, this beautiful dream turns into a nightmare for many travel nurses because of the housing issue. If your house isn't comfortable and secure, you won't be able to give the best care to your patients.  
Fortunately, there are many ways to find the best travel nurse housing tailored to your needs. Read this blog till the end to find what to look for in travel nurse housing. 
Moving to a different city every few months can be exciting but also daunting for travel nurses. Where do you find the perfect place to rest your head after a long work day? Finding the ideal travel nurse housing is a challenging task.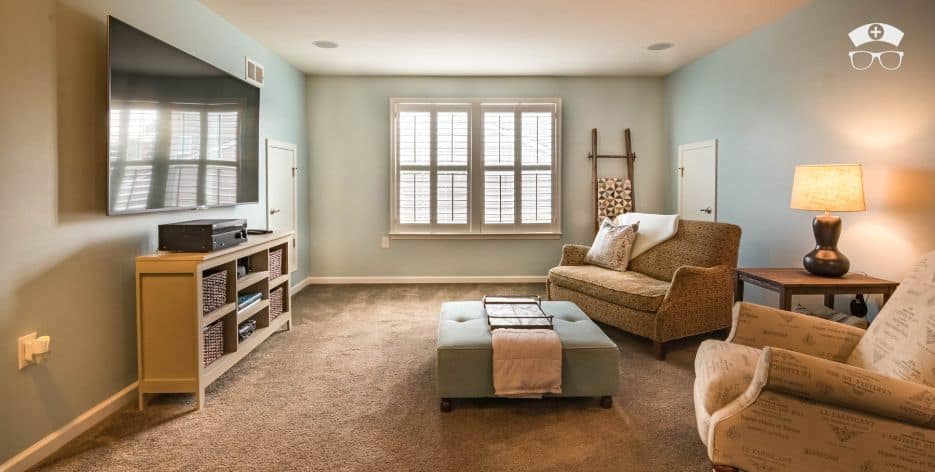 Types of Travel Nurse Housing
Travel nurses' housing costs are covered by their employees, which is a major advantage of this profession. However, the benefits vary, and it's important to know the details so you can get all the advantages in the best way possible. Generally, there are two ways to acquire housing as a travel nurse. 
Agency-placed Housing 
Many staffing agencies can arrange housing for travel nurses, so you don't have to go through the hassle of finding perfect housing, and a professional will do that for you. Usually, corporate apartments have everything, including amenities and a nice location that's a must for starting a new chapter of your life as a travel nurse. 
These staffing agencies have long-term leases with the complex, so every time a healthcare professional leaves the space, someone else can fill in the spot. In some cases, these agencies even cover other costs, including hot water and gas. However, you have to pay for an internet connection, and cable price varies. 
Stipend Pay 
You can find the house of your choice. Use a tax-free travel nursing stipend that an employer gives you as a payment. The primary reason some travel nurses prefer this is the freedom to make any arrangements and have a place specifically for them. 
The stipend or per diem amount varies depending on different factors, among which the most important factor is where you will be working. In cities, living cost is high, and a large sum of money is necessary to meet the ends. But for less expensive areas, the cost decreases to some extent. 
No matter how much your rent is, your stipend will be the same. So you can choose a cheaper house than your stipend and save money. The payment is either weekly or biweekly, depending on your agreement with the employer. According to some reports, travel nurse is the highest-paid job. Some agencies pay $78,430 to travel nurses.
When finding a perfect place to live, always keep these points of consideration in mind. They will help you decide whether a specific housing property is ideal for you.
Safety
A travel nurse is usually appointed to areas far away, and there are high chances you might be unfamiliar with those areas. So you can't think like a local person collecting tools and planning strategies to fight a burglar. And constantly feeling unsafe in your house. It's a matter of personal safety that shouldn't be compromised. 
You can avoid this situation by asking questions to the agency and doing research in advance. Get recommendations for safe apartments and housing near your workplace because they might have appointed travel nurses earlier, and you can rely on their experience. 
Use social media to learn more about your workplace. There are many websites where you can get the latest information, crime rate, and city layout. Use Reddit, and there are many cities with their subreddits. You can use it to connect with locals and clear your queries regarding your future neighborhood. 
Furniture
Safety is your top priority, but comfort is also on the list. Furniture is important because it not only beautifies the home but also makes life easier. As a travel nurse, it can be difficult to ship your furniture to distant places or hire movers, which can be extremely expensive. 
In that case, you can use an alternative which is finding a house that is completely furnished and offers all the amenities. But these living arrangements are high costs compared to unfurnished rentals. However, it gives you ease in that you can pack your bags and leave anytime you want without worrying about moving furniture. 
You can also use rent-to-own stores as they are incredible options for furniture. Mostly you get the full bedroom and living room that are fully furnished. You can rent it for a short period and call them to pick it up when you finish the assignment. 
Living Cost
A recent survey shows Americans spend 26% of their incomes on rent. However, the rent can vary, but it's best to be aware of the pricing beforehand as it will save you from a lot of upcoming headaches. 
To make things smoother, living with a travel nurse or getting a roommate is recommended. It can save you a lot of money and make life in a new city less hectic. It allows you to discover the city together and make new friends. 
6 Tips for Finding Travel Nurse Housing
Ask About Security Deposits
Many travel nurses miss this point, due to which they face problems later on. Always ask about security deposits upfront. It usually ranges from $500 to $1000. 
Check Online 
Almost every landlord provides references for tenants that live in the house. But it's best to make an effort from your end and check online and see what information you can find online. If there is even a single ounce of suspicion, ask immediately. Ask neighbors about the landlord and observe what reputation the landlord holds in other people's eyes. If there are many negative comments, it's best to take a step back and find another travel nurse housing. 
Pet Policies 
There are different rules for properties where some openly welcome pets, but some don't. If you are considering moving with your pet, inform your landlord beforehand so they can prepare accordingly. However, you must consider this before you sign a proper lease with the landlord.
Local Amenities
A furnished house is important for a comfortable living experience. But that's not all. It would be best if you also researched the neighborhood. Find if any necessary amenities are available, from grocery stores, restaurants, malls, parks, etc. Check all the 'must haves' while moving to a new area.
Properly Inspect 
Don't sign any paperwork before checking into the house. Check for molds, leakages, or any potential dangers that can be a great threat in the future and compromise your way of living. Check under sinks and in the kitchen behind appliances. 
Parking Area
If you are considering bringing your car to the new place, then it's best to look for a parking spot nearby. It can be on the street, near your house, or anywhere which is in close proximity to your house. As a travel nurse, it can save you a lot of time circling the block and save your energy.
Take Charge of Your Nursing Career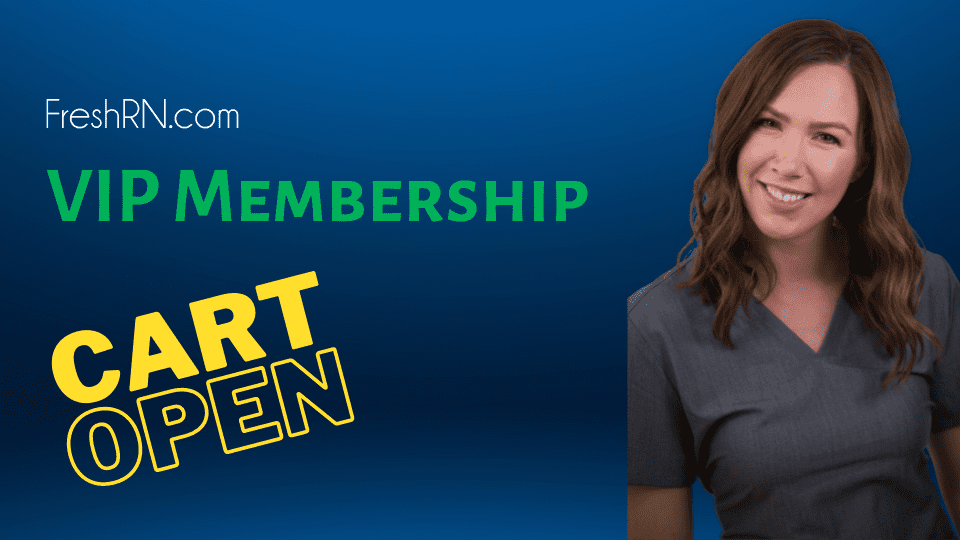 Your first year as a nurse is daunting. You need someone in your corner telling you what your managers really need from you, helping you learn to interact with your preceptor, and really just manage your life. Find all that an more with the FreshRN VIP – Membership.
Conclusion
Choosing an ideal travel nurse house can be a daunting task at first. But if you follow these steps, you will likely find a good place to call your own. Start exploring different houses, and you will soon find a place that works best for you. Save yourself from all the mental and physical headaches you might go through while finding suitable travel nurse housing.  
FAQs 
What expenses can you claim as a travel nurse?
As a travel nurse, you get allowances and tax-free reimbursements. Other than that, you can also claim tax reductions for authorized business purposes in case it exceeds your reimbursements and other stipends. It consists of food, conveyance, and lodging. 
Do traveling nurses use AirBnB?
There are many travel nurses who opt for an Airbnb because there is a wide range and variety of options from which you can choose. They are flexible and can fit every budget, requirement, and comfort level. If you want some lavish experience, then at a high cost, you can get a better room on Airbnb.
About Traveling Nurses Housing With Hello Landing
Hello Landing offers flexible and affordable living arrangements for travel nurses looking for responsive, easy-to-book housing specifically designed for their flexible work life. Their clever combination of the streamlined search process, modern accommodations, and competitively low prices set an exceptional standard of efficiency and luxury.
In addition to their expansive selection of properties, they have a full staff of supportive customer service representatives standing by 24/7 to ensure your experience is nothing short of perfect. And the best part is they provide complete amenities like a fully-stocked kitchen and laundry facilities, so you can feel right at home.
Following are a few details about Landing you should know.
Apartments are available in more than 375 cities
Over 20k apartments to rent
High average customer scores
No deposits or upfront fees
Customers can choose move-in/move-out dates or live with Landing with a more flexible move-out date
7-day peace of mind guarantee
Finding Your Place in the World with Hello Landing
Hello Landing makes it easy for travelers to find housing that meets their needs. Whether it's a spacious apartment in Florida or a cozy room in California, you can trust that Hello Landing has something that fits the bill.
Plus, all the homes are fully-furnished and have all the necessary amenities like bedding, kitchenware, and towels. All you need to do is show up with your suitcase.
Not only does Hello Landing provide travelers with comfortable housing solutions, but they also make it easy to book online. After entering your destination city and desired dates, you'll be presented with dozens of options.
You can then read reviews from other travelers and look at photos of each rental unit before committing to one. Plus, if there are any questions or issues during your stay, Hello Landing's customer service team is available 24/7 to help out.
Find the answers to all your questions on the Landing FAQ page. Have you ever used Landing? What was your experience like?
Also Check Out
Download Nurse Bingo Today!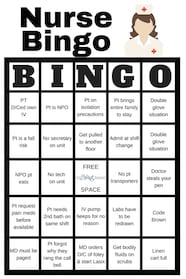 Liven up any shift with a fun game of bingo. See who can fill a row first!
Fill a whole card and lose grip with reality.
Your privacy is protected. We will never spam you.