*articles contain affiliate links*
Nurses love coffee almost as much as the Gilmore Girls. Although funny nurse coffee mugs likely wouldn't be suitable to sit at a nurse's station (don't want to get pinged for a drink without a lid), I'm sure most nurses would be able to find them a suitable home. I don't drink a ton of coffee, but would love to fill up any one of these mugs with hot tea! If you are looking for something more inspiring, check out Nurses Inspire Nurses Mug Designs That Support And Encourage.
If you are looking for more laughs be sure to check out our funny nurse videos, Funny Nursing Shirts, nurse puns, and nurse jokes.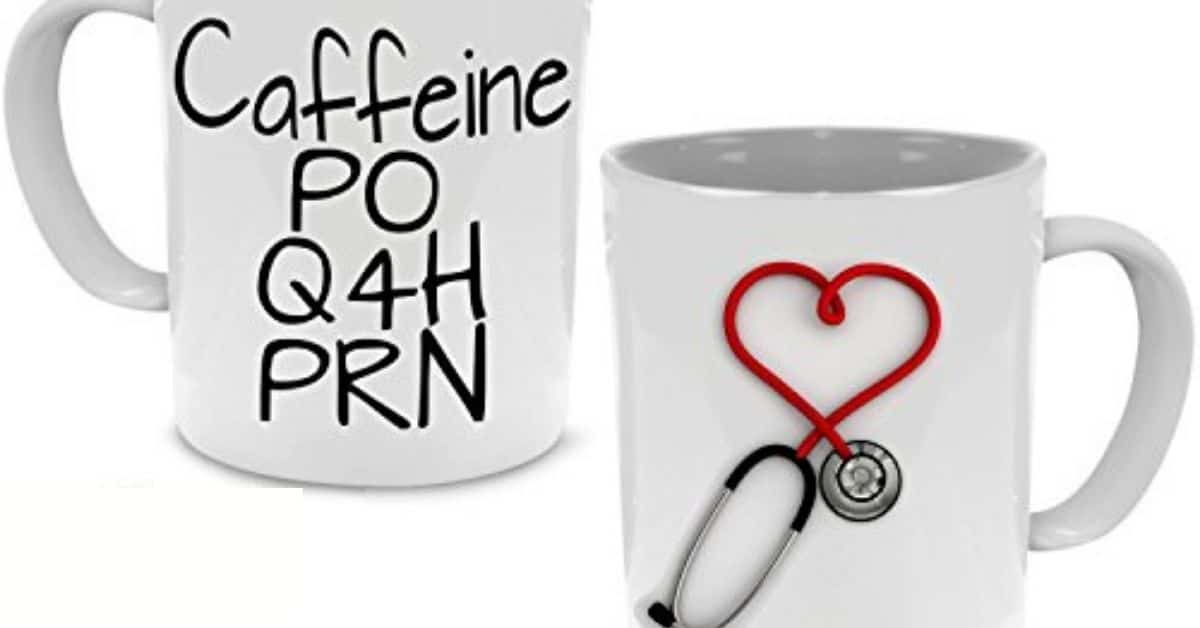 Personalized Nurse Mugs
Show your personality and your name with one of these adorable personalized nurse mugs.
Show off your profession with pride with one of these personalized stethoscope mugs. Get yours on Amazon.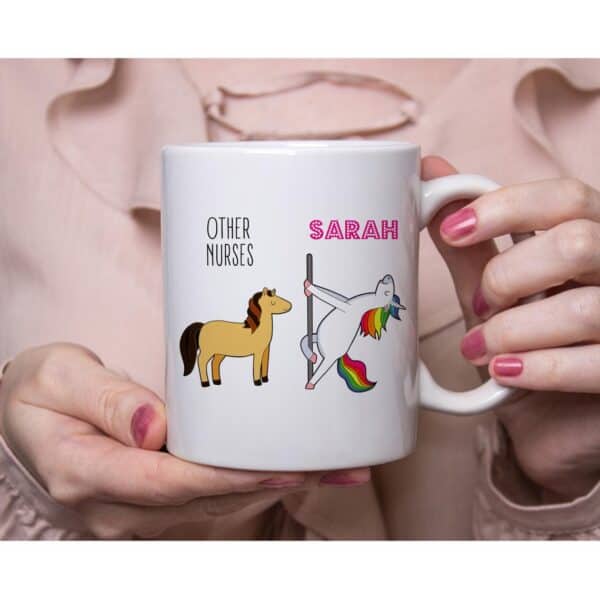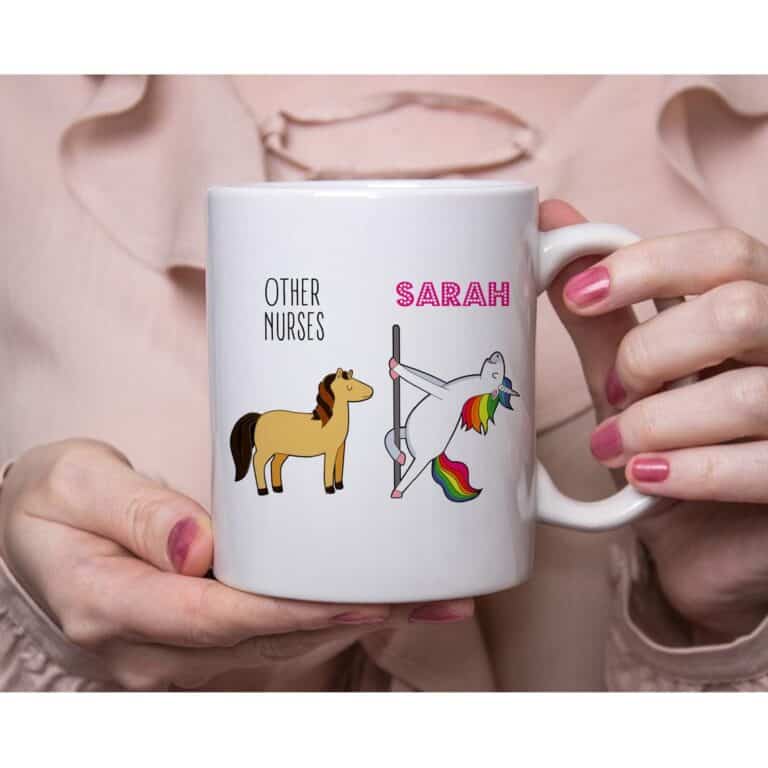 You are not like other nurses. Show that you are a stand out nurse with this funny personalized coffee mug from Etsy.
Funny Nurse Mugs
No matter what type of nurse mug you are looking for, you are sure to find one that is perfect for you.

Nurses are many things. Chief among those is being incredibly hard working. This mug has it right displaying that the nutritional value of a nurse is 000% hard working. Of course, sleep is at 0%, which we need to work on. A tired nurse is a dangerous nurse. Staying awake on the night shift is super hard, but even harder when you don't get enough sleep. Let's home the next version of this mug has a little more sleep! Get yours.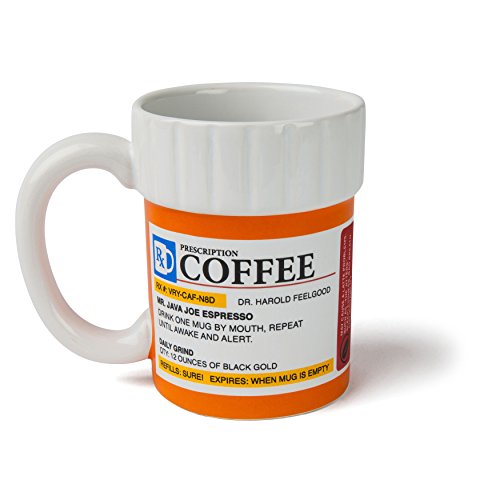 I've got a fever and the only prescription is more cowbell, er, I mean coffee. This funny nurse coffee mug is perfect for a nurse who is never without their coffee. It's a total bonus that it actually looks like a prescription bottle. Pick one up.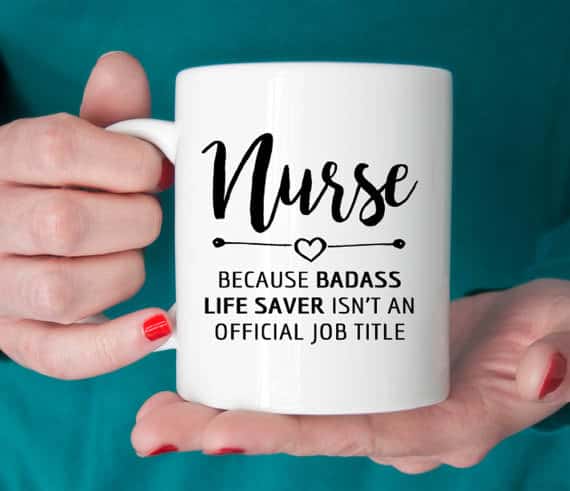 Job titles are really irrelevant don't you think? Nurses work hard doing hundreds of different tasks that on their own could give the title of therapist, dietician, secretary, transport, phlebotomist, and so many others. Honestly, if you look up badass lifesaver in the dictionary I'm pretty sure it will say "see nurse."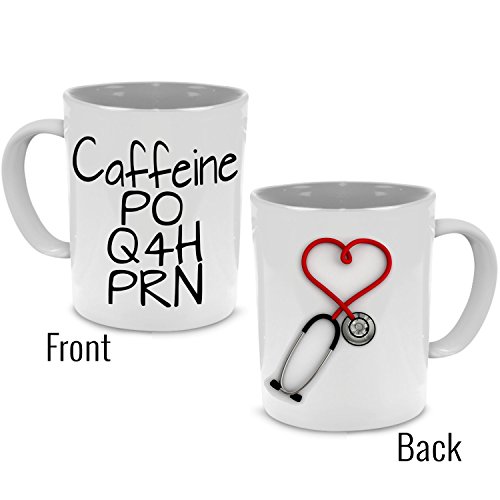 Caffeine By Mouth Every 4 Hours When Necessary! What nurse doesn't need a steady pick me up throughout their shift? This cup will remind you to take every 4 hours. The back of the mug features a stethoscope in the shape of a heart. Caffeine, fuels a nurse's heart! This mug is perfect for every nurse who can't be without her coffee.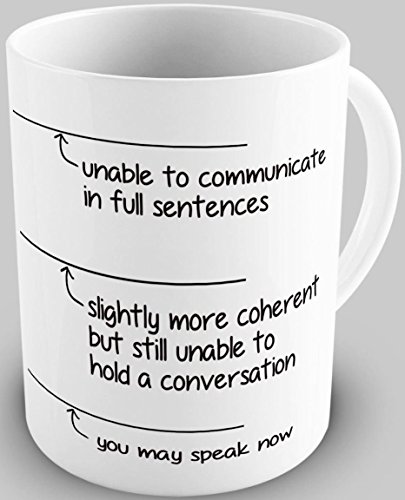 We have all been there. First thing in the morning, no coffee in you yet, don't even think about trying to talk to me. Half a cup, getting there but don't expect more than a grunt in response. Almost empty cup, bring on the day, and now you may speak to me. This mug makes a great gift, not just for a student nurse but for anyone who needs that one cup of coffee before they can function.
Male Nurse Mugs
Show your male nurse pride with one of these great mugs.
The perfect mug for any male nurse. We all know they are getting called handsome all day long by all their female patients, now they can show it off with this great mug from Amazon.
Who is a legendary nurse? You are. The man, the myth, the legend. Get this funny nurse mug at Amazon.
Student Nurse Mugs
You may still be in nursing school, but you can let the everyone know what you are in school for.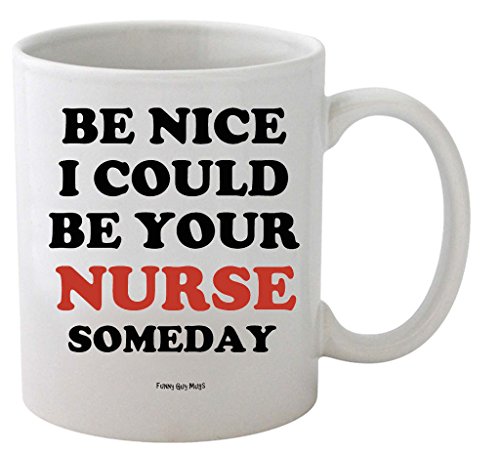 The cardinal rule when dealing with nurses. Repeat after me, "always be nice to a nurse"! Always. Why you ask? Because she really could be your nurse someday. And needles come in sizes. This funny nurse mug can be found on Amazon and makes a great gift.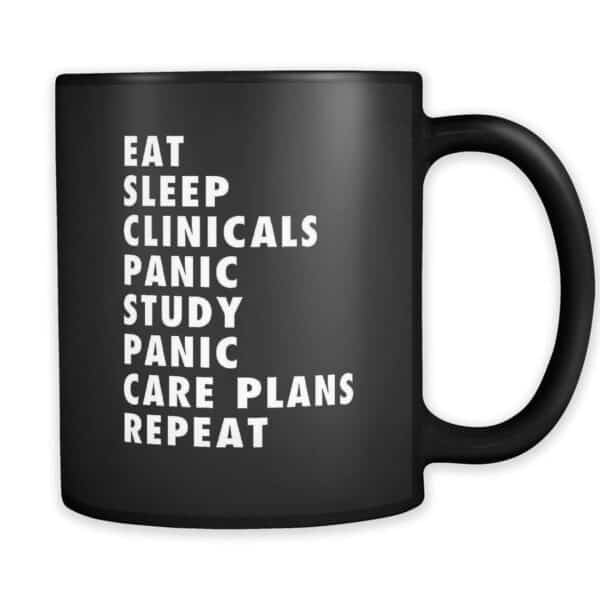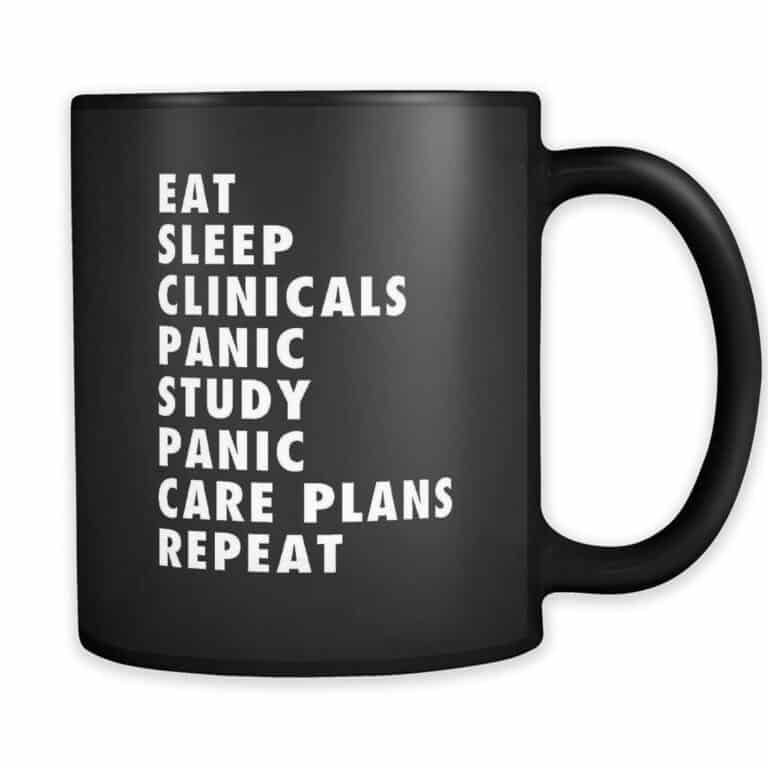 As a nursing student most days it feels like you do the same thing over and over again. Show your plans for the day with this mug from Etsy.
Take Charge of Your Nursing Career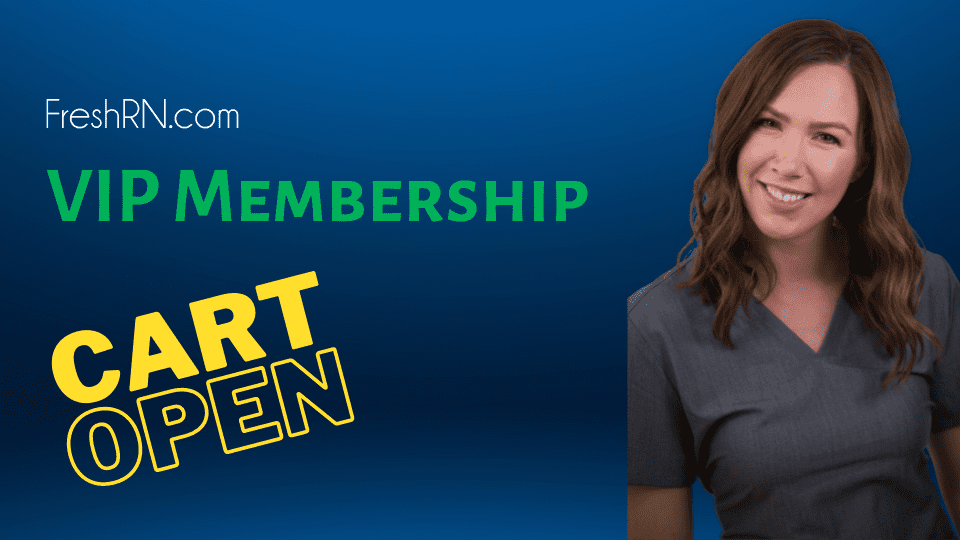 Your first year as a nurse is daunting. You need someone in your corner telling you what your managers really need from you, helping you learn to interact with your preceptor, and really just manage your life. Find all that an more with the FreshRN VIP – Membership.
Cute Nurse Mugs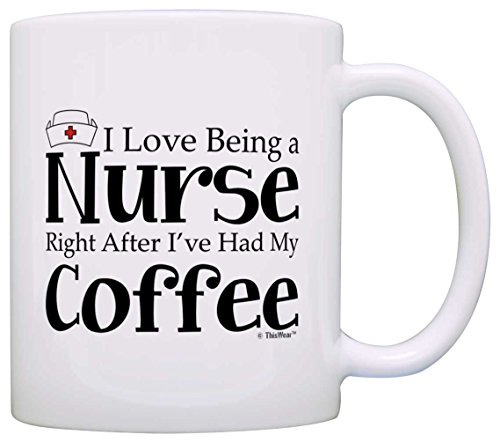 I don't know about you, but I need some coffee before I can really start to function for the day. Being a nurse is a great job. It is one that I love. But I love it even more right after I have had my coffee. This mug is perfect for anyone that loves their job, just as soon as they are awake.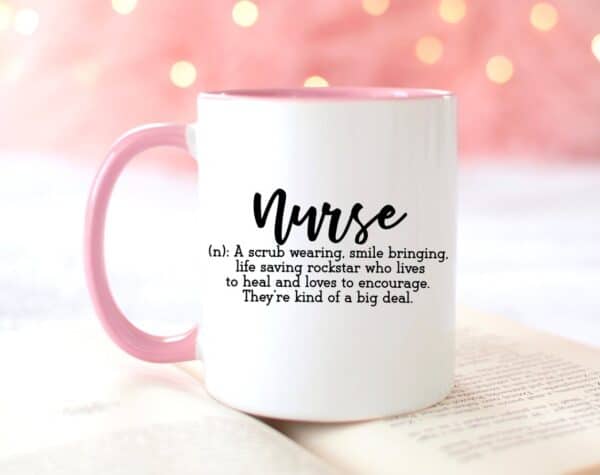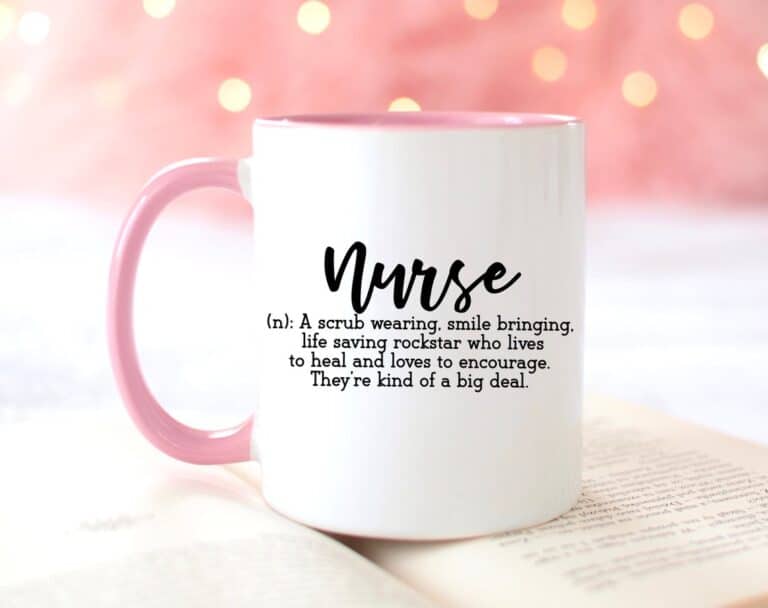 Are you a scrub-wearing, smile bringing, lifesaving, big deal? Of course, you are, you are a nurse. This mug comes in different colors and is dishwasher safe. Get yours on Etsy.
Cheap Nurse Mugs
Get one of these cheap nurse mugs. They are all under $10 so they are even cheap enough to surprise the whole shift with a fun gift.
While this tumbler may not be a mug, it adorable and you can find it for way under $10 on Amazon.
Some superheros wear scrubs. Show that you are a superhero with this mug from Amazon.
For more ideas on things nurses want check out these:
Personalized gifts for nurses.
Funny Nursing Shirts.
Nurse Graduation Gifts.
Download Nurse Bingo Today!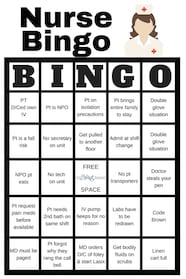 Liven up any shift with a fun game of bingo. See who can fill a row first!
Fill a whole card and lose grip with reality.
Your privacy is protected. We will never spam you.