CleanTech® EVO Automated Handwashing Stations utilize "smart hygiene solutions" cartridges which are one of our latest developments in automated hand hygiene technology. The term "smart" is now used to describe lots of new technology just for the sake of being trendy. It should be noted that we don't use that term lightly since our hygiene solutions cartridges interact with our CleanTech® EVO systems to ensure that the stations function properly to ensure the perfect hand wash.
A More Efficient Way to Track Hygiene Solutions
In the past we've used solutions containers that are common in the hand hygiene space. Large and bulky bottles that take up a substantial amount of space for storage, require a more complex refill process, and are very heavy adding a risk of injury to employees. With CleanTech® EVO, we wanted to use smaller hygiene solution cartridges to make switching out empty solution containers quick and painless so that workers can easily get back to hand hygiene cycles without any major hassles.
Our "smart solutions cartridges" are smaller and more compact since we've concentrated our hand hygiene solution, UltraPure, to provide more hand washes using less volume. Each of the cartridges also contain a microchip that interacts with the CleanTech® EVO systems and tells it when solution is running low and needs to be refilled. This will help to ensure that solutions are promptly replenished so that proper hygiene events can continue uninterrupted.
Download our Food Safety Sanitation Maintenance Guide to ensure that your hygiene zones are always properly stocked!
More Sustainable Hygiene Solutions
One of the things that we really wanted to focus on with CleanTech® EVO was its environmental impact. On top of providing water savings due to quicker nature of the automated hand wash, we wanted to minimize our waste even further. That's why CleanTech® EVO's solution cartridges are both recyclable and reusable. After the solutions in the cartridges have been depleted, the empty containers can then be sent back to Meritech to be reused and refilled which reduces unnecessary landfill waste.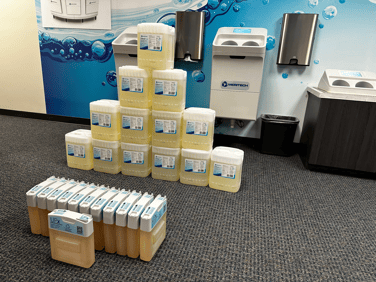 The Smart Solution Cartridges help to ensure consistent optimal performance of the CleanTech® EVO Automated Handwashing Stations. The storage space savings and convenience of replacing the cartridges also helps to further make hand hygiene as simple as possible. The weight difference between a year's supply is 207 lbs! As one of our customer's Pecan Deluxe Candy Company said, "The easier you make it the more compliant they are."
Download our Hygiene Zoning Checklist to ensure that your team is on the same page about your hygiene SOPs!